Vision
At the Çağla Kubat Windsurf Academy, we aim to provide top-level instruction for beginners, intermediate, advanced, and even pro level sailors. From our experienced instructors we want to make the learning process at any level fast, easy, and fun. We also offer the opportunity to rent quality equipment from two of the most prestigious brands in the sport, North Sails and Starboard. Additionally we want to inspire children to join in the joys of the sport by offering Summer Camps to learn the sport and improve their skills in a fun, safe environment, and also to provide the opportunity for young children with racing experience or aspirations, the necessary training to create the champions of the future. Ultimately we want to introduce as many people as possible to the sport of windsurfing and inspire in them the skills to enjoy a healthy, dynamic sport that can be enjoyed by young and old for a lifetime.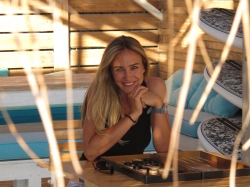 ÇAĞLA KUBAT

Windsurfing has been a huge part of Çağla's life. Her love for the sport has been an inspiration to all aspects of her life. She has been known as a television personality, an actress, a model, a beauty queen, an engineer, and as a champion windsurfer. In her heart and soul she is simply a windsurfer. She has trained and competed throughout the world becoming the 2008 IFCA Women's Slalom European Champion, the 2012 IFCA Women's World #3, the 2013 PWA World Tour Women's Slalom #4, and 3rd place in the 2013 PWA Alaçatı event. She has also been 8 x Turkish National Women's Slalom Champion. She holds all the necessary windsurfing licenses under the Turkish Sailing Federation including the RS5 license which makes her an instructor of instructors.

It is now her desire to help bring more people into the sport of windsurfing and share in the joy and adventures she has experienced. The Çağla Kubat Windsurf Academy has been founded to share her love for the sport, to inspire healthy living, and enjoy the beautiful conditions that the nature of Turkey has to offer.
JİMMY DIAZ
Jimmy has been a top 10 ranked professional windsurfer competing on the PWA tour. He has over 30 years racing experience competing in many different formats including slalom, Formula, and Olympic class racing. He represented the Virgin Islands in the 1992 Olympics in Barcelona and has accumulated a lot of racing and development experience working with top windsurfing brands like Neil Pryde, North Sails, and Starboard. He is also the current president of the PWA working hard to establish more events throughout the world and fortifying the success of the PWA World Tour.