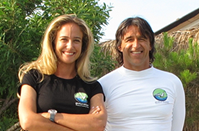 Windsurfing has been a major part of the lives of Çağla Kubat and Jimmy Diaz. After learning to windsurf, Çağla's life never steered far from windsurfing and she managed to integrate it in all aspects of her life. Balancing a successful career in television together with a successful career in competitive windsurfing, Çağla's love for the sport is limitless and she has done all she can to promote windsurfing in Turkey.
Jimmy Diaz has been competing since he was 13 years old gaining a wealth of knowledge in all aspects of racing, sail development, and now with the organisational part of the sport as president of the PWA. His involvement and adventures in the sport span over 30 years.
Çağla and Jimmy welcome you to the Çağla Kubat Windsurf Academy where they want to share with you their great enthusiasm for the sport and invite you to this great adventure called windsurfing.
Hoş Geldiniz !